Photo by Jess deLaski
To Book Hickory Grove call us at 703 598-0221
October 22, 10:00am – Noon
Vienna Farmers Market
FAITH BAPTIST CHURCH – PARKING LOT
301 CENTER STREET SOUTH
VIENNA, VA 22180
The Farmers Market is across the street from the Fire Department. The event is sponsored by the Optimist Club of greater Vienna.
Come on down to the market and say hello, we will be happy to see you.
Freeman Store and Museum
We had fun this summer playing and singing with our friend Jody Marshall (Hammered Dulcimer) at the Freeman Store in Vienna, VA (once in July and once in August).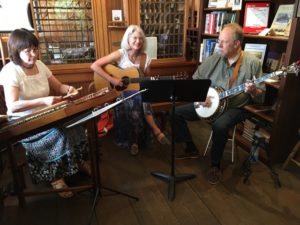 Photo by: David Shelby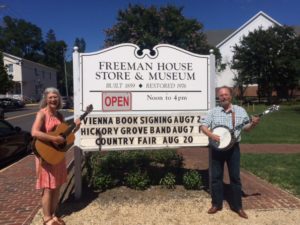 Many Tuesday Evenings at the Folk Club of Reston/Herndon
We enjoy both listening and performing at the Folk Club of Reston/Herndon. Here we are about to go on.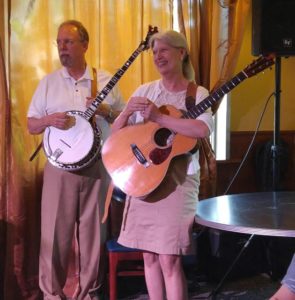 The Folk Club meets every Tuesday starting at 7:15pm at the Amphora Diner Deluxe in Herndon, VA
For more Folk Club information click: http://www.restonherndonfolkclub.com/
The Amphora Diner Deluxe is located at:
1151 Elden Street
Herndon, Virginia 20170
Recent samples Hickory Grove performing live:
This was recorded at our recent "Showcase" at the Folk Club of Reston/Herndon

Here we are performing Billy Ed Wheeler's "Red Winged Blackbird" (featuring Bev singing lead).

This features Bev singing Cheryl Wheeler's song "Behind the Barn".

OUR ALBUM "At the Mill"
TO PURCHASE SINGLE SONGS, TO DOWN LOAD THE ENTIRE ALBUM, OR TO PURCHASE THE CD (it will be shipped to you) CLICK THE LINK BELOW
http://www.cdbaby.com/cd/hickorygrove/

A little history on "Hickory Grove"
We organized our band in 1989 to play Folk, Americana, and Bluegrass music. We named the band after an area on the campus of The Defiance College [in Defiance, Ohio] where Jack and Bev first met. It was called "The Hickory Grove".
In the fall of 1993 we released Hickory Grove's album "At the Mill". The album received excellent reviews in the Times Community Paper Jan 1994; Northern Virginia Rhythm, April 1994; Bluegrass Unlimited, July 1995; Sing Out, May/June/July 1995; Dirty Linen, August 1995. Through the 1990s Hickory Grove played an array of regional venues ranging from Downs Park, MD to Waterford, VA including town festivals, county parks, and the Kennedy Center Millennium Stage. After the turn of the Millennium, Hickory Grove slowed their public performance pace as Jack and Bev both went back to school and continued playing music in other settings.
In 2013 we reactivated Hickory Grove with new energy and performances at the Swift Run Lodge Celtic House, Jammin' Java, and other venues.