Photo by Jess deLaski
To Book Hickory Grove call us at 703 598-0221
UPCOMING SCHEDULED PERFORMANCES:
THE SWIFT RUN CELTIC HOUSE CONCERT, in Fairfax Station, VA
Saturday, July 15, 2017 6:30PM
We are providing an evening of folk, blues, and bluegrass music. The Swift Run Celtic House Concert Series is in a lovely intimate venue on a 3-tier amphitheater deck. We are joined by Larry Tapper on harmonica and Ralph Gordon on bass. Bring your deck chair and a picnic. If the weather does not cooperate, we bring the concert indoors. Reservations are required. For reservations and directions call (703) 426-1450 or email: ionavoice@pobox.com
BLUEGRASS ON THE FARM,  at Montgomery County Agricultural History Farm Park
Saturday, September 16, 2017 The event starts at noon (specific performance times to be announced).
The festival takes place on a 55-acre complex with a historic farm site and a modern farming activity center: Plenty of lawn seating,  covered seating if you prefer and shady private areas for jamming before and after the concert.  Bev and Jack will be joined on stage by Larry Tapper on Harmonica and Dave Sargent on Bass Guitar.
To get to the The Agricultural History Farm Park from Northern Virginia/DC Metro Area, take 270 North to 370 East to Shady Grove Road to the town of Redland.  Then turn left on Muncaster Road and take it North to the Park.  Or better yet, to be safe, use your GPS.  The address is:
18400 Muncaster Road
Derwood, MD 20855
Click Here for more information on the Bluegrass on the Farm Event.
THANKS FOR COMING OUT!:
We want to thank all who came out to see our Friday (June 23) concert on the Vienna, Va Town Green.  Our dear friends Mike and Plum from Richmond, Va captured a snippet of the evening on their iPhone:

WE ARE HAVING A LOT OF FUN!:
This Spring we played at the Walker Nature Center Spring Festival in Reston.  Larry Tapper joined us on harmonica.  The Stewart Sisters kicked off the day, followed by Song Garden (Tom Bodine & Kathleen Huber), and then Hickory Grove.  The staff, volunteers, and attendees at the Nature Center were wonderful and hardy folk.  While we didn't sing "Singing in the Rain", we were definitely Singing in the Rain!  In spite of the weather, we all had a great time.  We have some home-made video from this event below.
Here we are playing "Blue Skies and Teardrops" with Larry Tapper on Harmonica. 
And here we are playing  "Dark Hollow" at the Walker Nature Center Spring Festival in Reston.
We also recently played at the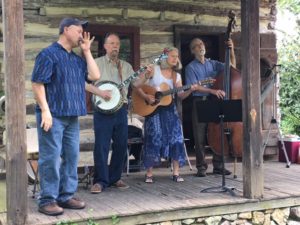 Vienna "Walk on the Hill" event.  It was a beautiful day and a lovely setting.  Our stage was the porch of a cabin located on a lovely lawn and garden.
Freeman Store and Museum
This past summer we had a great time playing and singing with our friend Jody Marshall (Hammered Dulcimer) at the Freeman Store in Vienna, VA pictured here.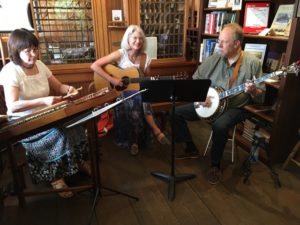 Photo by: David Shelby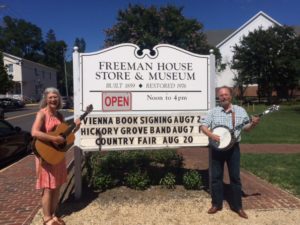 Many Tuesday Evenings you can find us at at The Folk Club of Reston/Herndon
The Folk Club meets every Tuesday at 7:15pm at Herndon's Amphora Diner Deluxe located at:
1151 Elden Street
Herndon, Virginia 20170
Recent samples Hickory Grove performing live at the Reston/Herndon Folk Club:
This was recorded at our recent "Showcase" at the Folk Club of Reston/Herndon

Here we are performing Billy Ed Wheeler's "Red Winged Blackbird" (featuring Bev singing lead).

HERE WE ARE AT HOME
This is what we do in our spare time.  We are working on Gillian Welch's "Tear My Stillhouse Down".  It may be the only anti-moonshine bluegrass song we ever heard, but we love the song.
OUR ALBUM "At the Mill"
TO PURCHASE SINGLE SONGS, TO DOWN LOAD THE ENTIRE ALBUM, OR TO PURCHASE THE CD (it will be shipped to you) CLICK THE LINK BELOW
http://www.cdbaby.com/cd/hickorygrove/

A little history on "Hickory Grove"
We organized our band in 1989 to play Folk, Americana, and Bluegrass music. We named the band after an area on the campus of The Defiance College [in Defiance, Ohio] where Jack and Bev first met. It was called "The Hickory Grove".
In the fall of 1993 we released Hickory Grove's album "At the Mill". The album received excellent reviews in the Times Community Paper Jan 1994; Northern Virginia Rhythm, April 1994; Bluegrass Unlimited, July 1995; Sing Out, May/June/July 1995; Dirty Linen, August 1995. Through the 1990s Hickory Grove played an array of regional venues ranging from Downs Park, MD to Waterford, VA including town festivals, county parks, and the Kennedy Center Millennium Stage. After the turn of the Millennium, Hickory Grove slowed their public performance pace as Jack and Bev both went back to school and continued playing music in other settings.
In 2013 we reactivated Hickory Grove with new energy and performances at the Swift Run Lodge Celtic House, Jammin' Java, and other venues.