Photo by Jess deLaski
To Book Hickory Grove call us at 703 598-0221
UP COMING PUBLIC PERFORMANCES – We would love to see you there:

April 7, 2018 [Saturday] 11:30am – 12:30pm and 2:00pm – 3:00pm Hickory Grove (Jack and Bev) are performing at the 22nd Annual Gas & Steam Engine Show presented at Montgomery County's Agricultural History Farm Park, 18400 Muncaster Road, Derwood, Maryland.  You will find us playing our Folk and Bluegrass music in the barn. While we are there only on Saturday, the Gas & Steam Engine Show is a two-day event running Saturday (4/7/18) 10:00am to 5:00 and Sunday (4/8/18) 10:00am to 3:00pm.  Admission and Parking are free, Great Food, Live Music, Tractors, Gas Engines, Antique Cars & Trucks, plus Arts and Craft Vendors.  Click here for more information on the Gas & Steam Engine Show or call 301 670-4661.
April 29, 2018 [Sunday] 2:00pm – 5:00pm Hickory Grove is returning for the 44th Walk on the Hill & Green Expo at Windover Avenue and Orchard Street in the Windover Heights Historic District of Vienna, VA.  Bev Osburn (vocals & guitar) and Jack Osburn (vocals & Banjo) will be joined on stage by Larry Tapper on Harmonica and Dave Sargent on Bass Guitar. Click here for more information on the 44th Walk on the Hill & Green Expo.
WE HAD A GREAT TIME IN 2017 – Here are some highlights:
We provided the music for the October 14 Little Library 120th Anniversary Celebration next to the Freeman Store and Museum in Vienna, VA.  "The Little Library" is the Town of Vienna's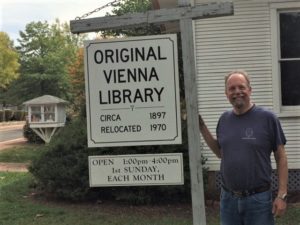 original library — a tiny one room building constructed in 1897. This sunny afternoon included games for children and adults, souvenirs, refreshments, and remarks by local dignitaries. Bev and Jack were joined on stage by Larry Tapper (Harmonica) and Dave Sargent (Bass Guitar).
It was a perfect day for Bluegrass on the Farm, at  the Montgomery County Agricultural History Farm Park, in Derwood, MD on Saturday (September 16).  This event is produced and superbly executed by a team of dedicated volunteers. "Bluegrass on the Farm" has been an annual event since 2006. The site is a 55-acre historic farm that includes the original house (built in 1908) that serves as a museum.  The stage was set in a beautiful stand of tall trees providing shade for the audience.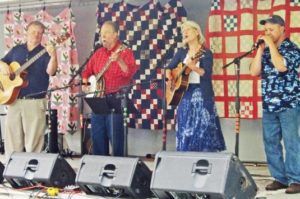 Photo by Bruce Cohen
There were gardening, farm animal, and antique farm equipment exhibits, food and drink, and three bluegrass bands.  We had a great time, but it so warmed our hearts to receive the following:
"It was a real pleasure to have Hickory Grove perform at our thirteenth annual Bluegrass on the Farm Festival in Derwood, Maryland.  Hickory Grove has an obvious love for music, people, and entertaining.  They bring top-notch vocals to their performances and pair that singing with smooth and accomplished instrument play.  Hickory Grove's enthusiasm for music and performing shines during every song.  At Bluegrass on the Farm, Hickory Grove was a wonderful addition to our family friendly festival."  -Chris Suzich, Friends of the Agricultural History Farm Park, Board member
In July Bev, and Jack were joined by Larry Tapper (harmonica), and Ralph Gordon (bass) for a Swift Run Lodge Celtic House Concert in Fairfax Station, VA.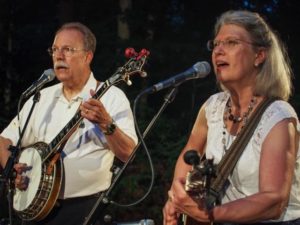 Much of the folk and bluegrass music we play has deep roots in the Scottish, Irish, Welsh and English folk traditions. The  Swift Run Celtic House Concerts are a series of  musical performances, in an intimate out-door setting, offered each summer.  The series features performers from both sides of the Atlantic.
It was wonderful seeing neighbors and friends at our June Concert on the Town Green in Vienna, VA.  Our dear friends Mike and Plum from Richmond, Va captured a snippet of the evening on their iPhone.  That's Dave Sargent anchoring the music with his bass guitar and Larry Tapper wailing on harmonica:

This past May we played at the Walker Nature Center Spring Festival in Reston.  Larry Tapper joined us on harmonica.  The Stewart Sisters kicked off the day, followed by Song Garden (Tom Bodine & Kathleen Huber), and then Hickory Grove.  The staff, volunteers, and attendees at the Nature Center were wonderful and hardy folk.  While we didn't sing "Singing in the Rain", we were definitely Singing in the Rain!  In spite of the weather, we all had a great time.  We have some home-made video from this event below.
Here we are playing "Blue Skies and Teardrops" with Larry Tapper on Harmonica. 
And here we are playing  "Dark Hollow" at the Walker Nature Center Spring Festival in Reston.
Last April we played at Vienna's "Walk on the Hill" Event.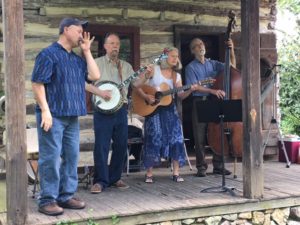 It was a beautiful day and a lovely setting.  This was the 43rd annual "Walk on the Hill" in Vienna's historic Windover Heights neighborhood.
Our stage was the porch of a cabin located on a lovely lawn and garden. That is Larry Tapper playing harmonica and Ralph Gordon playing bass.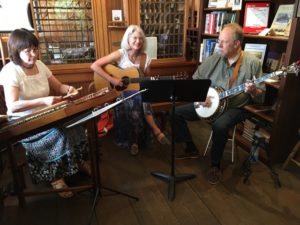 THE FREEMAN STORE AND MUSEUM
In August of 2016 we had a great time playing and singing with our friend Jody Marshall (Hammered Dulcimer) on two occasions at the Freeman Store and Museum in Vienna, VA (pictured to the right).   Bev and Jack also provided music for a book signing.  The building was originally constructed in 1859.  Over the years it has been used as a store, a residence, a post office,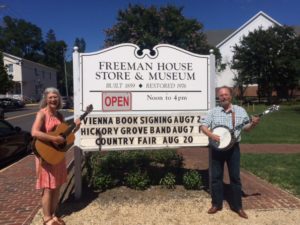 and now serves as a center for preservation of the Vienna Virginia's history.  It is located next to  the Washington and Old Dominion (W&OD) Bike Trail, across Church Street from the big red caboose – convenient for bikers to buy a cold drink!
Photo by: David Shelby
THE FOLK CLUB OF RESTON/ HERNDON
Many Tuesday Evenings you can find us at at The Folk Club of Reston/Herndon .  The Folk Club meets every Tuesday at 7:15pm at the Amphora Diner Deluxe located at:
1151 Elden Street
Herndon, Virginia 20170
Recent samples Hickory Grove performing live at the Reston/Herndon Folk Club:
This was recorded at our recent "Showcase" at the Folk Club of Reston/Herndon

Here we are performing Billy Edd Wheeler's "Red Winged Blackbird" (featuring Bev singing lead).

HERE WE ARE AT HOME
This is what we do in our spare time.  We are working on Gillian Welch's "Tear My Stillhouse Down".  It may be the only anti-moonshine bluegrass song we ever heard, but we love the song.
OUR ALBUM "At the Mill"
TO PURCHASE SINGLE SONGS, TO DOWN LOAD THE ENTIRE ALBUM, OR TO PURCHASE THE CD (it will be shipped to you) CLICK THE LINK BELOW
http://www.cdbaby.com/cd/hickorygrove/

A little history on "Hickory Grove"
We organized our band in 1989 to play Folk, Americana, and Bluegrass music. We named the band after an area on the campus of The Defiance College [in Defiance, Ohio] where Jack and Bev first met. It was called "The Hickory Grove".
In the fall of 1993 we released Hickory Grove's album "At the Mill". The album received excellent reviews in the Times Community Paper Jan 1994; Northern Virginia Rhythm, April 1994; Bluegrass Unlimited, July 1995; Sing Out, May/June/July 1995; Dirty Linen, August 1995. Through the 1990s Hickory Grove played an array of regional venues ranging from Downs Park, MD to Waterford, VA including town festivals, county parks, and the Kennedy Center Millennium Stage. After the turn of the Millennium, Hickory Grove slowed their public performance pace as Jack and Bev both went back to school and continued playing music in other settings.
In 2013 we reactivated Hickory Grove with new energy and performances at the Swift Run Lodge Celtic House, Jammin' Java, and other venues.